Traditional way (Using a bowl)
Ingredients
Tea bowl
Bamboo whisk
Measuring ladle
Strainer
Matcha powder ( 1 to 2 teaspoon)
Water (1 cup or 8 ounces)
Directions
Take the powder in the strainer
Shake it well to ensure it is free of clumps and then sift it into the bowl
Take hot water in a cup and after it has cooled to 180 – 190 °C pour it into the bowl having the matcha powder. Do not add the green tea to the boiling water as its grassy taste will get more intense.
Whisk the mixture in a circular, zigzag motion for about 10 to 15 seconds till your tea has attained a bright, green color.
You can pour it in a teacup or directly drink it from the bowl.
Add honey or any sweetener since it has a grass-like taste.
To get an aromatic flavor, you can even add pieces of chopped or ground ginger for a matcha ginger tea.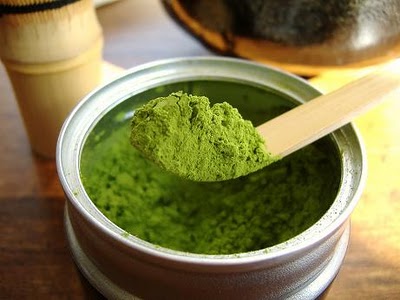 Matcha in a cup
Ingredients
Water
Spoon
Cup
Matcha powder
Directions
Heat the water
Add a few drops of it to the powder to make a paste
Add more water for a thick concoction
Your matcha is ready to drink
You can find more tasty recipes here.