Teas
> Darjeeling Pearl White Tea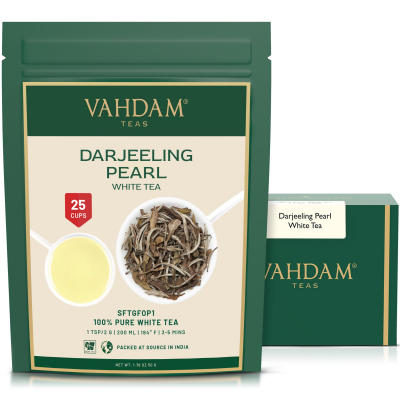 Vahdam Tea
Darjeeling Pearl White Tea
A rare Darjeeling white tea with a floral aroma and delectable undertones of fresh greens.
Caffeine Level:
How it Tastes:
Courtesy of the renowned Arya tea estate in the divine region of Darjeeling, we bring to you a unique and rare first flush white tea. Handpicked before sunrise with great care and precision, this tea is sourced from superior clonal bushes. It has a bright, smooth liquor with mellow flavours and undertones of fresh greens, in addition to the fresh floral aroma that allures your senses like none other. At par a vintage wine, this artisanal white tea is a limited edition that can be steeped multiple times and deserves to be served plain without any accompaniments.
Brewing temperature:
7Oz / 200ml Water at 80-90°C
Net weight:
1.76oz | 50gm | 20+ Cups
Stepping time:
Steep 2-3 Mins
Packaging:
Loose Leaf.
Themes:
Ingredients:
White tea.
Certification:
Allergens:
TEALOVERS
Join The Best Tea Community